Yachting Lifestyle
Offers unforgettable boating experiences with quality service aboard!
We have a selection of high-end vessels and carefully constructed experiences to help you match your expectations to what our beautiful Algarve Coast has to offer.
We are based in the wonderful Lagos Marina which offers the perfect departure location to explore the Western Algarve Coast and its many hidden treasures.
Our team of skippers are local, knowledgeable and experienced sailors trained to make your time with us fun, safe and unforgettable.
We have three options of yacht rental for you to consider, each with its own unique strengths.
Why choose us?
The Algarve coast has so much to offer, but often only a few places get all the focus.
We see this as an opportunity to try and give you the

most authentic experience
Which will you choose?
Featured Boats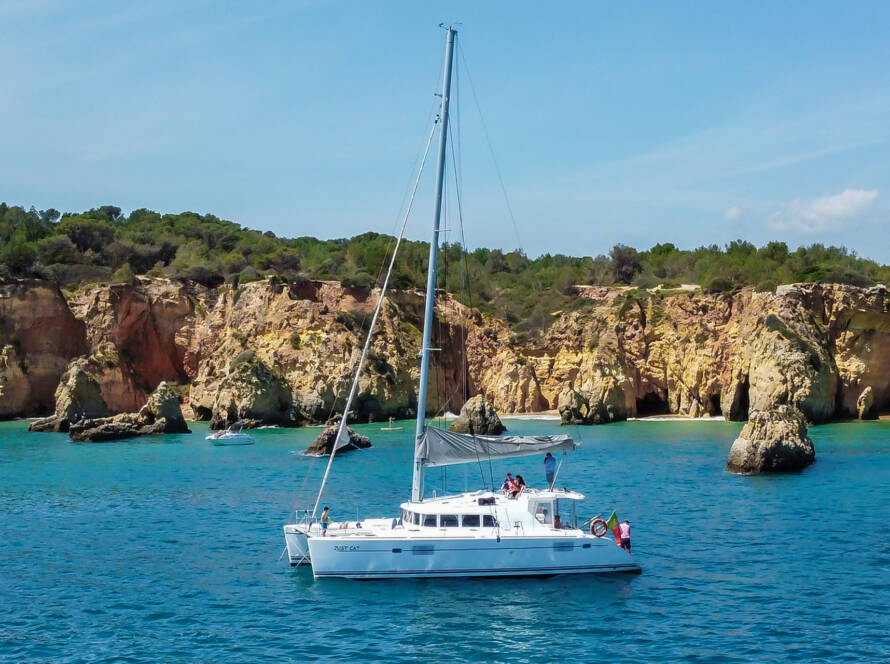 Length
13.61m
Draft
1.3m
Capacity
16 people
3h00
Up to 10 pax € 1100 or Up to 16 pax € 1220
5h00
Up to 10 pax € 1500 or Up to 16 pax € 1635
7h00
Up to 10 pax € 1800 or Up to 16 pax € 1950
The Best of Algarve
The Perfect Place
For The Ideal Holiday
Combine great weather, beautiful beaches, majestic cliffs, and the warmth and welcoming spirit of Portuguese culture. What else does an amazing holiday need?
Testimonials
What they say about us
The best part of being in the Algarve by far was our day with Pedro out on the water. Boat and service were impeccable and the experience was so much more than a "ride". We could tell from the minute we met Pedro that he has a passion for his country and especially experiencing it from the water. Sure he showed us what Instagram deems a must – but if you place your trust in him you will get to experience the hidden gems of the Portugal coastline that are truly magical. He was so kind and patient with our family and provided an unhurried and memorable experience. Highly recommend!!
Pedro and his crew were fabulous! We went out with them for two full days over the course of our week in Lagos, and saw completely different parts of the coastline. The boat was beautiful and comfortable (a 40ft catamaran), and our group had a fabulous, unforgettable time both days. I would definitely recommend to anyone visiting Lagos!
The day trip we took with captain Pedro was our favorite day in Portugal! The catamaran was beautiful, large and comfortable. The service and care on the boat was professional – and fun 🤩. Instructions on how to arrive at the boat were impeccable. And to top it all off, captain Pedro asked us our favorite genre of music – making sure even this detail on the trip was perfect! We booked the trip a second time already!
We had a fantastic day with the crew on this wonderful boat. A day to remember by our family and our guests.
Subscribe to be updated on all the latest news